Since Ethereum's launch in 2015, the token has grown to become the second-largest cryptocurrency in the crypto space by market capitalization and price.
Today, Ethereum now serves as a decentralized blockchain and has undergone an upgrade to become Ethereum 2.0 (ETH 2.0), which now gives users the ability to stake cryptocurrencies using a crypto staking platform (ideally Coinbase or Binance) and get paid in ETH.
Concerning the best tokens to stake, Ethereum is one of the best cryptocurrencies to stake right now as it rewards decently compared to other cryptocurrencies. Ethereum is also very liquid and can be easily traded or swapped with other tokens.
Key Takeaways
 • Ethereum staking is a seamless process that can be done on major crypto exchanges. Notably, Coinbase and Binance are flexible and easy to stake ETH.
 • The Annual Percentage Yield (APY) gotten from Ethereum staking differs from exchange to exchange, so it is left to you to know which is best to use.
 • Coinbase has a waitlist where you can join to secure a slot for Ethereum staking, although this is not 100% guaranteed.
 • Kraken charges an administration fee of 15% on all rewards earned from crypto staking, and that includes rewards gotten from staking Ethereum.
If you are interested in knowing the best places to stake Ethereum, you are just in the right place as I will be listing in this article five of the best places you can get maximum opportunities for staking Ethereum.
They are listed below.
1. Binance
Binance is the largest crypto exchange in the world right now. It offers staking activities for Ethereum and other cryptocurrencies through its Binance Earn feature on the homepage.
If you are interested in staking Ethereum on Binance, you will need to first convert your Ethereum to BETH, which will represent the staked amount.
For instance, you can convert 50 ETH to 50 BETH and then place it in the locked staking option for some time before you can convert it to ETH.
For annual percentage yields (APY), you can get up to 5.20% for a fixed duration of ETH 2.0 staking, and this APY is subject to change daily based on the on-chain staking rewards.
Lastly, Binance gives out on-chain staking rewards to investors that stake ETH 2.0 without any fees.
This motivates investors to stake their ETH rather than opting to become ETH validators, where they incur operating expenses such as hardware expenses and might face certain risks from on-chain sanctions.
2. Coinbase
Coinbase ranks among the top three crypto exchanges across the globe and is the easiest place to buy and sell cryptocurrencies. Other than that, it offers a lot of amazing features, one of which is Ethereum staking.
With this exchange, you can earn up to a 4.5% annual percentage yield on your staked Ethereum and see your rewards appear automatically in your account periodically.
Normally, if you try to stake on your own, it would require you to set up a node on your own hardware, sync it to the blockchain, and fund the node with enough cryptocurrency to meet minimum thresholds, including providing a sizable deposit and bond.
On Coinbase, this is done easily as the platform will stake, generate, and sign blocks on your behalf while you retain full ownership of your tokens and earn rewards.
Ethereum staking on Coinbase at the moment is limited to some regions, such as the United Kingdom, the United States, and some countries in Europe.
There is also a waitlist where you can join to secure a staking slot, but this does not guarantee that you will be given one; especially since Ethereum staking is still limited to just a few regions.
3. Kraken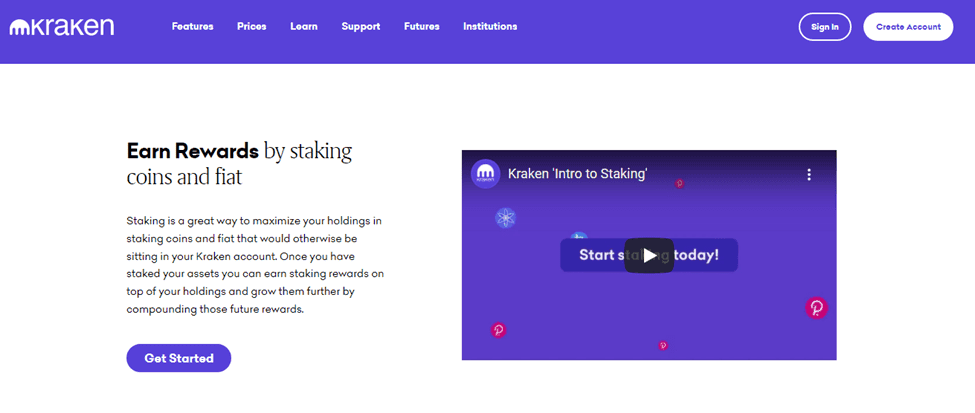 Kraken is a United States-based cryptocurrency exchange that has earned the trust of its clients by providing world-class financial stability by maintaining full reserves, healthy banking relationships, and the highest standards of global compliance.
In terms of Ethereum staking, once you have staked them on Kraken, you get to earn staking rewards on top of your holdings and grow them further by compounding those future rewards.
These rewards are usually every year and range between 4%-7%, subject to additional terms and conditions.
Kraken also charges an administration fee of 15% on all rewards earned, which means it will be deducted from the yearly reward earnings of 4%-7%.
On Kraken, you only need to fund your Kraken account, select Ethereum as the coin you wish to stake from your spot wallet, and then proceed to stake it, in which you automatically become eligible to receive rewards twice a week from your staked Ethereum.
4. eToro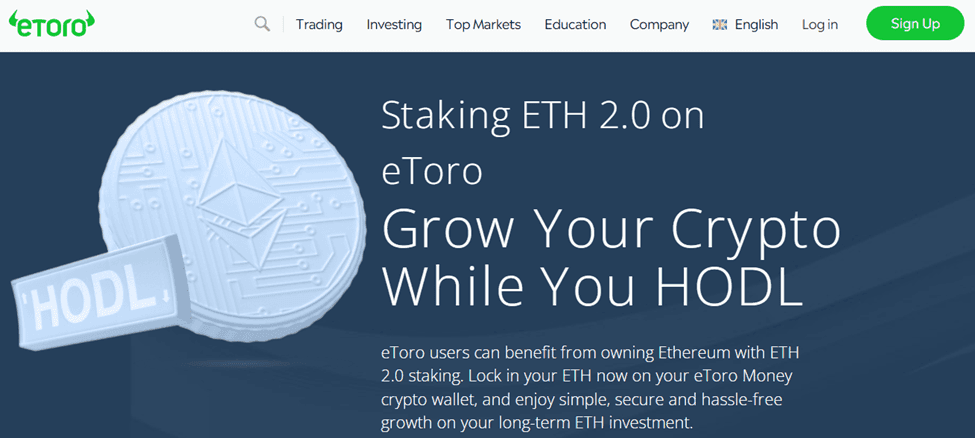 eToro is an Israeli-based social trading exchange that focuses on providing financial and copy-trading services such as forex and crypto.
Staking with eToro is a process that allows investors who own and hold supported crypto assets such as Ethereum to earn rewards just for holding them. eToro executes the staking process on behalf of its investors.
The rewards you will get will be more of Ethereum, which means that you can grow your Ethereum holdings using a similar mechanism to how you can earn interest on money.
Staking ETH on eToro helps secure the ETH 2.0 blockchain network and also means that you can earn between 5%-6.25% rewards per year on the ETH that you stake.
The amount of ETH 2.0 staking rewards is calculated by Ethereum according to the amount of ETH staked in total.
You will be able to see all the accrued rewards on your staked ETH, as well as the entire amount of ETH 2.0 staking rewards given in the eToro money crypto wallet.
You will also receive a monthly email letting you know how much your staked ETH has increased.
eToro takes great care to protect their investors' crypto assets against exposure to any additional risks, sparing them the hassle and complication of staking on their own.
Consequently, eToro retains a small percentage of the yield to cover the various operational, technical, and legal costs involved.
5. Bitfinex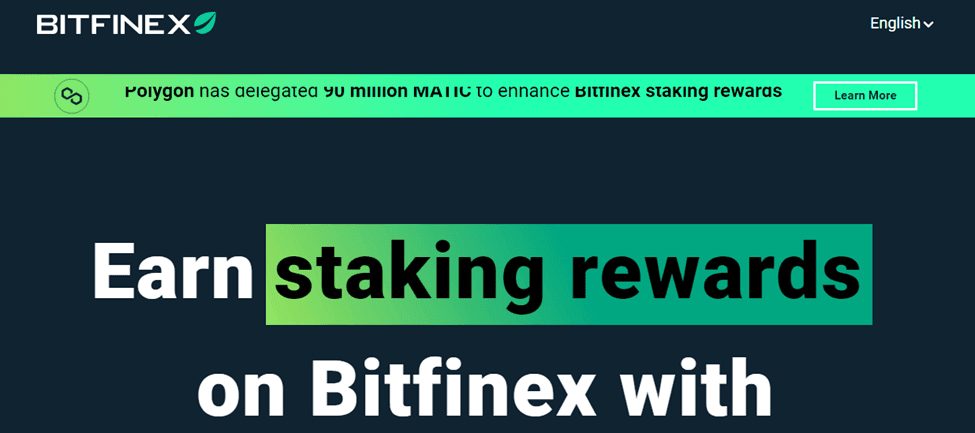 Bitfinex is an excellent crypto exchange that provides a wide range of assets for investors to trade, buy, and sell.
Their soft staking program allows you to easily generate rewards by simply holding Ethereum on Bitfinex, and staking rewards can be as high as 10% for Ethereum staked on the platform.
For ETH staking, the estimated annual staking reward is based on rewards as of December 23, 2020, and rewards will vary, including based on the Ethereum protocol, so actual annualized staking rewards may differ.
Lastly, Bitfinex makes no guarantees regarding the amount of any staking rewards.
Frequently Asked Questions (FAQs)
Is staking ETH worth it?
Yes, it is worth staking Ethereum. Staking Ethereum on a reliable exchange is worth it as you get to earn rewards for doing so, and the amount of ETH you earn from staking will depend on the size of your wallet, the number of confirmations you have, and the value of ETH.
Can you lose money staking Ethereum?
Yes, you can lose money from staking Ethereum due to slashing (a sanction implemented at the protocol level that has to do with a network failure). But the chances of this happening are not very common, so most often than not, you are good to go.
Final Thoughts
Staking Ethereum is quite an easy task if you make use of trustworthy and reliable crypto exchanges just like the ones listed in this article.
These exchanges are willing to do all the hard work for you while you sit back and relax as your staked ETH continues to yield rewards for you.
Read More