Your choice of cryptocurrency wallet is very important as this is where you are going to safeguard your crypto assets.
Cryptocurrency wallets can be dedicated wallets for storing a single cryptocurrency or can be multicurrency wallets that can store different cryptocurrency tokens.
Unlike single-currency wallets, multicurrency wallets make things easier by eliminating the need to have several wallets for holding each of your crypto assets.
In this article, we have curated a list of the best multicurrency wallets for storing Bitcoin and Altcoins. 
About Multicurrency wallets
A multicurrency wallet allows you to hold different crypto tokens in the same place. They store your public and private keys so you can send, receive and check the available balance of the various crypto assets you are holding in the wallet.
Multicurrency wallets can come in different forms and can be hot wallets or cold wallets.
·  Hot wallet: A hot wallet can only be used when connected to the internet. Because hot wallets can only be used when connected to the internet, they are less secure compared to other forms of wallets.
Many hot wallets also have other uses apart from being wallets, some come with DApps, for staking and swaps. Hot wallets are very easy to use but are very prone to exploits and hacking as we stated earlier
·  Cold wallet: A cold wallet is one whose apparatus is not necessarily connected to the internet to store cryptocurrency.
They come with the advantage that they are not very prone to exploits and attacks as they are standalone solutions. Cold wallets usually come with adequate encryption to maintain security.
Check our list of the best hot and cold Bitcoin wallets.
5 Best multicurrency wallets
1. Trust Wallet
Trust wallet is the official wallet of the Binance blockchain, although it supports virtually all other blockchains too.
Trust wallet is a non-custodial crypto wallet. Trust wallet is a hot wallet and it is an open-source wallet, which means the source codes of the wallet are openly available and accessible for audit by anyone.
Currently, Trustwallet can save, send and receive over 1 million cryptocurrencies.
Trust wallet comes with a web3 adaptable browser that enables you to use other decentralized applications alongside your wallet.
Easy to signup, download, install, save seed phrases, and use.
·  Multi-platform usage on mobile phones and computers.
·  You can stake with your Trustwallet.
·  Trust wallet has a unique interface that makes interoperability with DApps possible and smooth.
2. Coinbase wallet
Coinbase wallet is a wallet made by one of the largest cryptocurrency exchanges in the US-Coinbase.
The Coinbase wallet should not be mistaken for the exchange, therefore you do not have to own a Coinbase exchange account to use the wallet. It is a hot wallet that supports over 100 currencies.
The Coinbase wallet is mobile based and available for download on Android and iOS.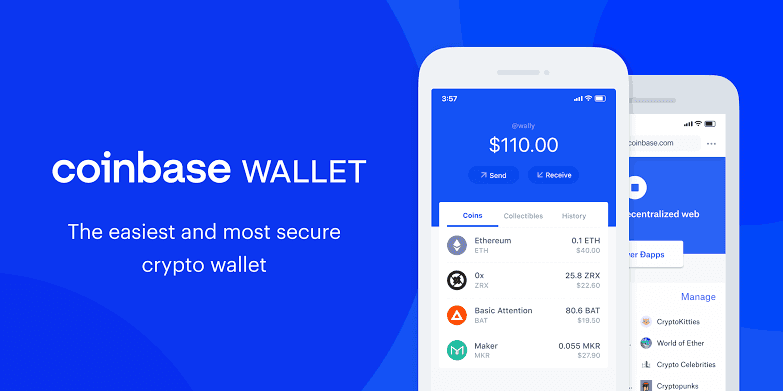 .  Easy-to-use interface.
·  It comes with 2-FA security that gives an extra layer of protection for your funds.
·  Comes with access to DApps to give you access to other services on your wallet.
2. Ledger Nano
The Ledger Nano S comes with just 160kb of storage and the capacity to install just three apps while the Nano X comes with enhanced features to install over 100 blockchain applications.
Ledger Nano is one of the most popular cold wallets in the crypto world. The Ledger Nano supports bitcoin and 5500 altcoins.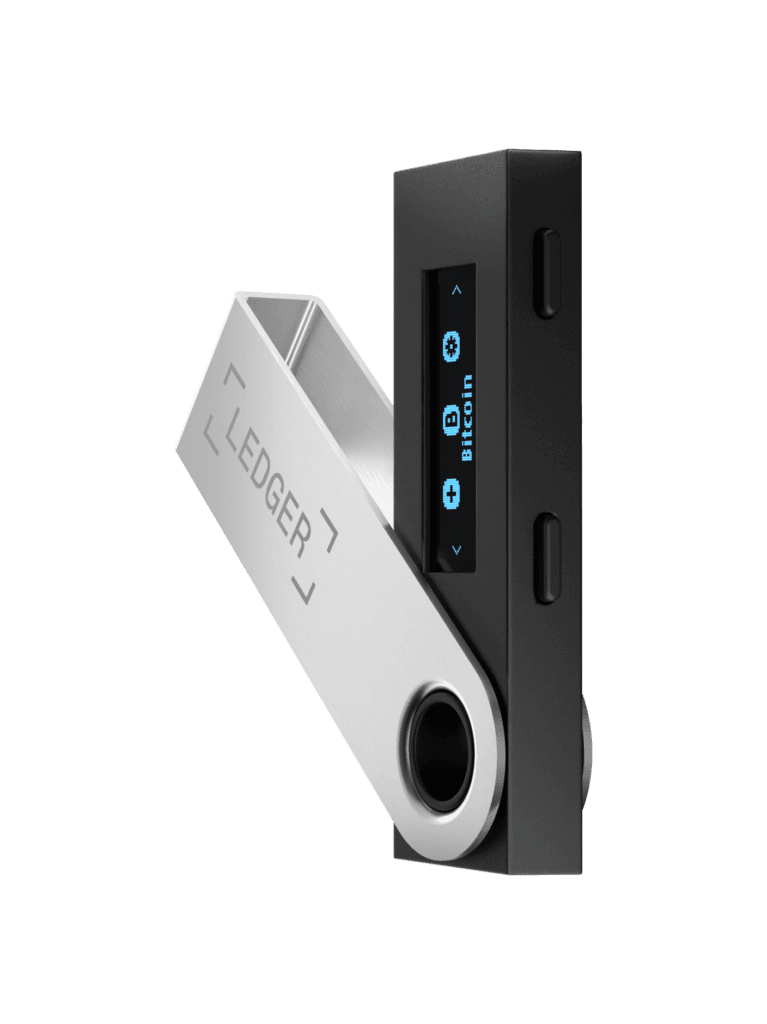 Ledger-Nano-S
·  One major thing that attracts its users is its affordability, Ledger Nano is available for about $59. It is not only affordable but also very secure there has not been any incident of the Ledger Nano S being hacked remotely whatsoever.
·  One of the main advantages that Ledger has, is its added encryption and 2-factor authentication that ensures that your crypto is secure.
·  The Ledger wallet is quite handy and is just the size of a USB drive, so users need not worry about bulkiness.
·  Seamless management of your crypto through the Ledger live application.
3. Trezor
Trezor wallets come in hardware forms only. This means that the private keys and secret recovery phrases are offline. Transactions on Trezor are signed offline and managed by Trezor itself, information is not shared with any other digital device; this protects your private keys recovery phrase. Trezor wallets come in two variants, model one and model T.
Key Features of Trezor Wallet
·  Open source and transparent: Trezor wallet is open source which means the entire code can be audited to check for malicious codes and attacks by anybody.
·  Trezor supports over 1,000 cryptocurrencies.
·  2-Factor Authentication: Trezor uses a 2-factor authentication called Universal Second factor.
It uses public key cryptography to certify your identity, as against Time-based one-time passwords that require a third-party device to send your one-time use password, the U2F generates the password from your public key.
Prevents your wallet from unpermitted access. You need to confirm the transaction with a click on your device. Phishing protection
·  Added encryption: Every document is encrypted by Trezor with GPG. GPG generates your key and stores it on your Trezor wallet without reaching your computer.
·  Trezor wallet supports over 500 cryptocurrencies.
4. BitBox02 Wallet
BitBox02 was developed by Shift. It is a hardware wallet that comes with USB A and C types and offline backups to an SD card. It is equipped with touch sensors such that it responds to gestures.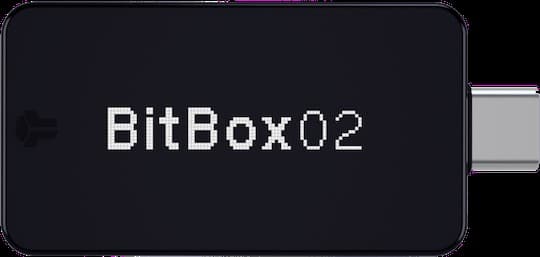 ·  Open Source: The codes are open source, therefore anyone who understands codes can look up the codes for errors and malicious codes.
·  Secure Protection:The wallet comes with additional protection support against malware since it does not permit the installation of other software.
·  Enable custom fees: This feature allows you to customize your transaction fees to save on transaction fees.
·  Enhanced Privacy setting:This is also known as coin control, this feature allows you to manage your UTXO so that the receiver will only know about the coins you send only.
5. Keepkey Wallet
Keepkey is a hardware wallet that currently supports over 40 different cryptocurrencies. It comes with a large screen that enhances easy navigation. Keepkey runs on windows, Mac, Linux, and Android OS.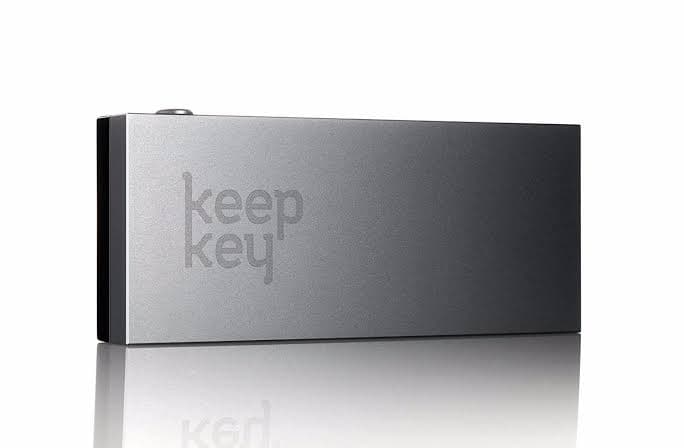 Enhanced Display: The keepkey wallet comes with a large display screen such that you can see any transaction you want to perform
Enhanced Security: It comes with a pin that you set on setting up your wallet, therefore if you misplace your keepkey wallet or it gets stolen, no one will be able to access your wallet without your consent.
Read More