Volatility is desired in every financial market.
Your gains or losses also depend on it. Your ability to anticipate the market direction and trigger and action is crucial to the success of your trades.
Mobile trading apps are one way to keep track of your positions on the go.
With numerous mobile trading apps in the Google Play store and the Apple Store, running through the long list of apps may be tiring,
I will take you through a few mobile trading apps for currencies, cryptos, and stocks that are worth downloading.
Let's get to it…
Mobile Trading Apps for Currencies, Cryptos and Stocks
Thinkorswim Mobile App – TD Ameritrade's
TD Ameritrade offers a thinkorswim app as its mobile platform. The interface is intuitive with on-the-go access to Forex, Stocks, futures, complex options. You get to have the latest market news and insights in the palm of your hands.
The Thinkorswim app also provides explicit mobile streaming of CNBC to get market news.
Owners of cryptos who trade a large number of their coins on the go will appreciate TD Ameritrade's alert system that transfers push updates with programmed trading alerts.
Its brilliant technical analysis feature is amazing, you get to analyze your position and stress test your portfolio.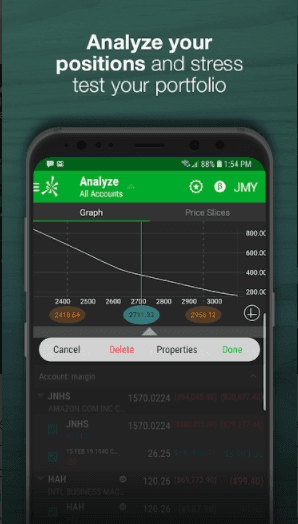 The mobile platform is easy to use and has most features a trader will need on a single platform as very few brokerage companies can match TD Ameritrade's intuitive app.
TD Ameritrade charges no fees on traders' contracts and the minimum users of the platform can have in their account is $0. The web platform and mobile trading app are best suited to retirement savers, new investors, and day traders.
Download Thinkorswim Google Play Store, Apple Store.
SEE ALSO: Best 5 Trading Apps for Bitcoin this Year
SEE ALSO: How to Buy Bitcoin Fast with a Debit card using CEX.IO
eToro
eToro is ideal for cryptocurrency traders with smart ways to diversify your portfolio with no hidden cost. This app is not just a place to trade online, its a platform where you can connect with one of the largest trading communities.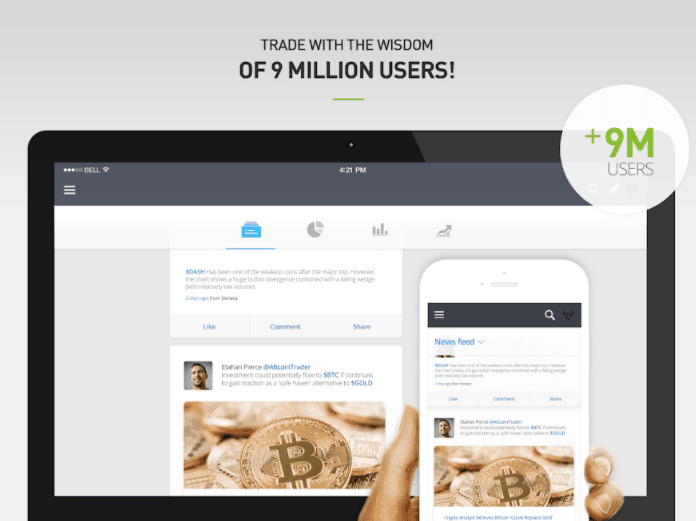 With over 280 million trades on its platform, eToro keeps becoming a go-to app for new traders. eToro is a social trading site that permits traders to follow the trades of professional traders making it a distinct trading platform for all financial assets.
Most traders say they find it more convenient trading on its mobile app because of its cutting-edge tools which feature valuable market research and ProCharts at a glance. eToro also has a strong reputation for being well regulated and secure.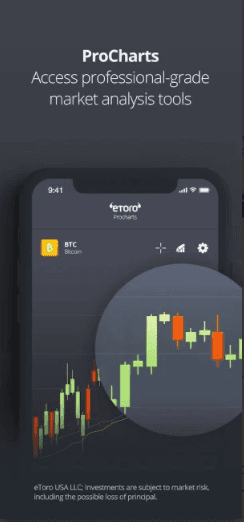 To get started with eToro, you need a minimum opening capital of $200. Copy-trading features available on its web platform are also accessible from its app.
Download eToro: Google Play Store, Apple Store.
Nadex
If trading binary options is your thing then Nadex is just perfect for it.
A wide array of features are provided to users accompanied by account monitoring tools, and full charting as well as technical analysis features.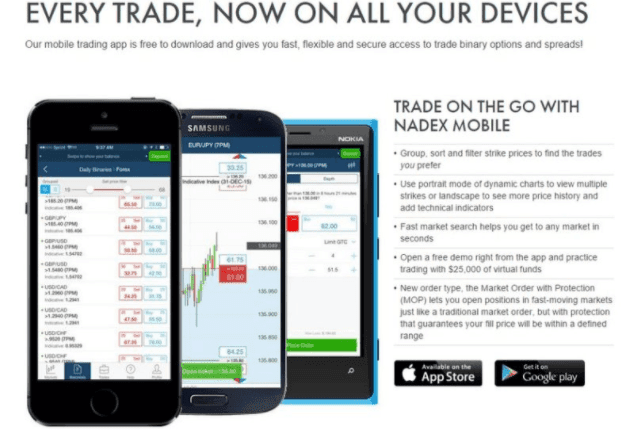 Once you install the app, you log into your account and pick your market. There you'll find three different trading products to pick from…
Binary spread
Knockouts and
Call spread.
Let's see how it works after installing the app on your phone.
The platform requires that you switch between the chart and order entry ticket which will require extra attention to get accustomed to it.
Nadex majors on spread and binary options trading and the pricing structure is $1 per trade having $50  as the maximum.
To exit a trade, just place a second trade, counter trade or allow the contract to come to an end. A $1 per contract sale is deducted by Nadex as commission and the least traders can fund into their account is $250.
Download Nadex: Android
SEE ALSO: Top 7 Forex Brokers that Accept US Clients
Features of the Excellent Mobile Trading Apps
Trading Education Materials
In an ever-changing economy, knowledge will give you the upper hand. The finest forex trading apps provide resources on the technical aspect of trading and the most up-to-date editorials and news.
This information assists traders with understanding how to predict better the currencies that will hike and drop in value.
Frequent Updates
The value of a currency can change in a split second, so traders need prompt real-time value information to place the most mindful trade they can. This usually creates issues on mobile sites with lower processing powers than desktop devices and can delay or develop a fault whilst trade is ongoing.
Experiment with the forex trading app you prefer with some little test trades before making up your mind on the platform to confirm if it can offer the trade and streaming power required in completing your currency trades.
Lower Spreads
In the forex market, spread refers to the difference between the buying and selling price of a currency and functions chiefly as the fee collected by the forex exchange for handling your trade.
Although the majority of spreads are simply a portion of one unit of the asset you're trading, committed traders might at anytime find that a major percentage of their profits has been reduced by the exchange's fees and commissions.
Don't be scared to search properly for forex exchanges till you get the one that provides reasonable fees and helps lessen the trading loss.
The forex market is no more tied to big banks and government establishments due to a process known as "trading on the margin" as there isn't a $100,000 minimum limit anymore to start trading currencies.
Read More