7 Best Exchanges that Supports Solana
What is Solana (SOL)?
Solana (SOL) is a fourth-generation blockchain and cryptocurrency that leverages an open infrastructure to provide greater scalability. S
The network introduces new and unique technologies to provide users with unmatched transaction speeds and enterprise-level security.  Consequently, the network has seen considerable growth since its introduction in 2017.
According to its official website, Solana is a 'fast, secure, and censorship-resistant blockchain providing the open infrastructure required for global adoption.' The blockchain aims to deal with problems like scalability and ease of use.
Solana is home to a wide range of products. For example, Binance's Trust wallet and the popular offline wallet, Exodus, is built on Solana. Exchanges are not left out as well. Bithumb, OKEx, and Bitfinex all use Solana at the core of their models.
Before we explore top Exchanges that support Solana, let's see the key Takeaways.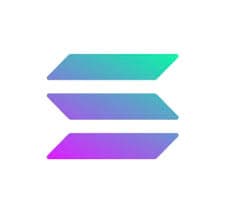 Key Takeaways
• Uphold offers a desktop and mobile app trading experience that is extremely intuitive. TradingView is completely customizable with the assets that you trade the most and it has a very easy to navigate, and modern feel on both desktop and mobile.
• Solana might just be the fastest crypto network on the block with speeds averaging over 50,000 per second. One of the solid reasons why it became popular with crypto exchanges.
SEE ALSO: How Much Do Solana Validators Make?
Below are the top 7 crypto exchanges that support Solana:
1. Binance
Arguably the biggest change in the world, Binance is one of the exchanges you could use to buy Solana. It is a good place to start because it has high liquidity, meaning buying and selling Solana won't be difficult and slow.
Although the coin is traded in several pairs such as SOL/BUSD, SOL/EUR, SOL/BNB, and SOL/GBP, the most traced pair is SOL/USDT with a spread of 0.03%. You need a minimum of 10.1 USDT to buy SOL on Binance.
On Binance, check the lists of top gainers and top losers. If Solana is on the top gainers' list on a particular day, then it's a good time to sell.
SEE ALSO: 6 Best Places to Stake Solana
2. Uphold
Uphold happens to be a top exchange in both the United States and the UK, It is an experienced and extremely innovative trading platform that should be able to meet your needs for trading across several cryptocurrencies including Solana (SOL).
Beyond the ease of use and innovative features within the trading platform, what stands out about the company is the credibility they have gained in the industry.
They offer a desktop and mobile app trading experience that is extremely intuitive. The trading view is completely customizable with the assets that you trade the most and it has a very easy to navigate, and modern feel on both desktop and mobile. It is a very popular and suitable choice, particularly for new traders.
Besides being visibly appealing, the Uphold trading platform allows you to place your trades with great ease.
Just a couple of clicks and you can make trades directly from your deposit method without even having to wait for funds to clear to your account.
This one-step ordering is another innovation from the company who pride themselves on the usability of their platform. They have also added the ability to execute limit orders. USA customers can also claim a debit card that earns cashback & crypto.
3. Gate.io
Gate.io was established in 2013, while it is not one of the most popular exchanges, they do offer a reputable trading platform with an easy-to-use interface for beginners while still maintaining robust and advanced charts for various types of skill levels including technical traders.
They have a large number of altcoins including Solana (SOL). While there are some concerns with trustworthiness they do have a strong stance against any type of market manipulation.
4. OKEx
While some exchanges are satisfactory places where to buy Solana, OKEx has the best chart on this list. The chart is simple and shows you a coin's price at any given time. Trading is also simple for beginners, although OKEx has a limited number of fiats and crypto you can trade, which doesn't include Solana.
To buy Solana, you would need to buy USDT first. The spread SOL/USDT is 0.01%, which is more profitable for frequent traders. Another way you can buy Solana is to use P2P. Buy USDT first before converting to SOL.
5. Coinbase
Beginners looking for where to buy Solana easily can use Coinbase. Why Coinbase? Coinbase has a very simple interface without a lot of charts and numbers. Like OKEx, the Solana price page appears with the coin's price in your local currency and a simple line graph. 
Solana is bought through the SOL/USDT, which comes with a 0.05% spread. Another advantage Coinbase has over other exchanges is that you can buy Solana directly with your local currency. In countries with unsupported currencies, USDT or BTC can be used to buy Solana normally.
SEE ALSO: How to Qualify for a Solana Airdrop
6. Serum DEX
If you're looking for where to buy Solana on a decentralized exchange, you can try out Serum. Some people prefer decentralized exchanges because there's no need to deposit fiat or other currencies before they can buy a coin like Solana.
You can buy Solana with the exchange's most traded pair, SOL/USDT (Spread 0.19%). Alternatively, you could use USD or Serum's native token (SRM) to buy SOL. To do this, first, enter the amount USDT you want to use to purchase Solana. This will instantly show you how many Solana units you would get. Next, place the order and wait for execution.
7.  Bitfinex
Another exchange to buy Solana is Bitfinex. The Hong Kong-based exchange has been around since 2012 and has some form of credibility. The only way you can buy Solana on this exchange is with the dollar as the SOL/USD pair. 
The spread for this pair is 0.08%, which is fair compared to the industry average. Bitfinex has a unique feature: a depth chart. This chart easily shows you the real-time actions of both buyers and sellers concerning a pinned price. This can help you get a better feel of the market.
SEE ALSO: How to Choose a Validator when Staking with Ledger
Frequently Asked Questions
1. How Fast Is Solana?
The project, whose innovative technology has generated significant visibility, claims that it has created the world's fastest blockchain. According to the Solana white paper, the network could theoretically process 50,000 transactions per second (TPS) using a 1 gigabit per second network connection
2. What is Solana Block Propagation Technique called?
A Solana cluster uses a multi-layer block propagation mechanism called Turbine to broadcast transaction shreds to all nodes with a minimal amount of duplicate messages. The cluster divides itself into small collections of nodes, called neighborhoods.
3. Does Solana use sharding?
No, Solana does not use Sharding as it tends to flip security. Also, it breaks the composability of smart contracts, which gives developers the ability to integrate and easily build on the work of others.
4. Is Solana Scalable?
Solana is often referred to as the most scalable and first truly web-scale blockchain in the world, as it's among the few protocols achieving over 1,000 TPS. Moreover, Solana claims to support over 50,000 TPS, with over 200 nodes on the current testnet making it by far the most performance blockchain network.
SEE ALSO: What are Solana Validator Node Requirements?
SEE ALSO: 7 Best Insured Crypto Exchanges for Better Protection
Final Thoughts
Solana has been one of the most popular cryptocurrencies out there for some time now. And as such, exchanges have incorporated it into their platform. Above are the top exchanges among many where you can buy, sell and store Solana as well as make other transactions.
Read More