In the past, we were introduced to the Internet of Things (IoT), and we were amazed by what we saw and what it meant. Today, we have IOTA, which is the first cryptocurrency to utilize the power of the Internet of Things in its build-up.
Key Takeaways
 • IOTA is the first cryptocurrency to incorporate the Internet of Things as its design.
 • IOTA was created in 2015 as such, it is still relatively new crypto that has laid the foundation for other cryptos to follow suit.
 •IOTA makes use of Tangle to improve the scalability issue of cryptocurrencies.
 • The "Swap" feature on BitPanda allows investors to easily swap one cryptocurrency to another.
SEE ALSO: How to Store IOTA On Ledger With Firefly
SEE ALSO: Top 8 Cryptocurrency Exchanges that Do Not Require KYC
SEE ALSO: 7 Cryptocurrency Derivate Exchanges With Their Own Coin
It is viewed as an attempt to extend crypto beyond the blockchain and employs Tangle, a directed acyclic graph (DAG), to address crypto scalability issues and to enable free micro-transactions between the devices of the Internet of Things (I0T).
IOTA was created in 2015 by a group that included David Sonstebo, Sergey Ivancheglo, Dominik Schiener, and Dr. Serguei Popov. Popov, Serguei, and Ivancheglo all contributed to the completion of the Tangle system's mathematics and programming.
IOTA is a cryptocurrency that aims to serve as the foundation for the economy of the Internet of Things.
IoT devices are becoming an increasingly significant component of the global economy. These gadgets all create a large amount of data that non-related businesses may find beneficial.
Unfortunately, there is no method for such firms to acquire this information at the moment, and that is why IOTA is working to address this issue by developing a fee-free cryptocurrency that can be used on the most basic of devices.
Moving forward, some crypto exchanges have gone ahead of others in supporting this cryptocurrency, and they include the following:
1. Bittrex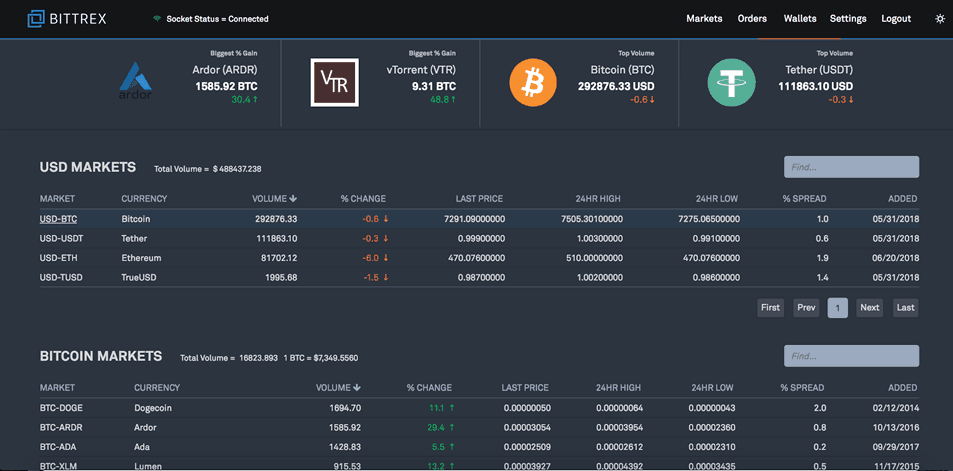 Bittrex is one of the earliest and best-known cryptocurrency exchanges. With 300 trading pairs, this exchange is very diverse in such a way that it has something for every trader.
Aside from well-known trading pairs such as Bitcoin (BTC), Ethereum (ETH), Ripple (XRP), Litecoin (LTC), and many others, investors can trade on several lesser-known cryptocurrencies.
And, of course, IOTA should not be overlooked as it has been made available for trading on Bittrex Global since January 30, 2020.
This exchange is appealing to both experienced and new investors because of its features, which include an app for mobile devices, making it easier for investors to carry out their activities in the blink of an eye.
In addition to the mobile app, the existence of an easy-to-use interface and quick deposits and withdrawals also contribute to a pleasant trading experience for investors.
Deposits on Bittrex are, of course, free of charge, and payout fees are determined by the crypto coin or token in question.
Bittrex also places a high value on security, as investors enjoy a safe platform for trading cryptocurrencies thanks to the use of cutting-edge security technology, as well as ongoing modifications and upgrades.
Bittrex Global's inclusion of IOTA into their exchange provides another alternative for investors interested in the IOTA Tangle technology to acquire IOTA.
2. BitPanda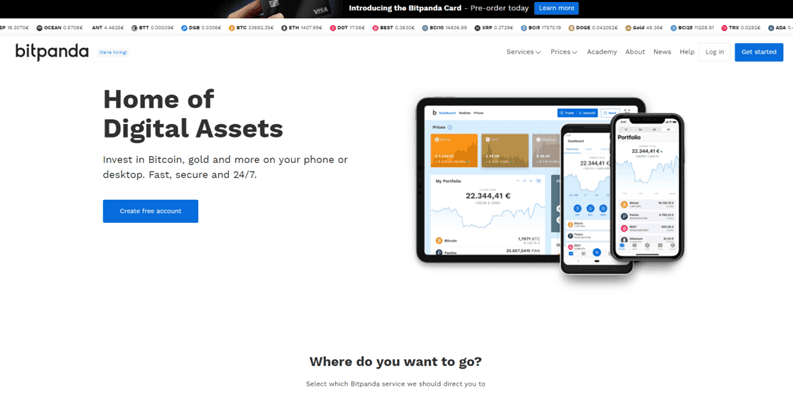 BitPanda is an excellent exchange where investors can easily purchase IOTA. One of the features of BitPanda that makes it stand out is that it has very low fees and a very simple user interface.
With this exchange, you don't have to be a cryptocurrency expert to get your hands on your preferred cryptocurrency.
On BitPanda, you can even create an IOTA savings plan. After you've set it up, you won't have to worry about buying crypto again as it will do that automatically at a given frequency set by you.
The frequency could be weekly or monthly; it is up to you to decide that, and the mobile app is very easy to use.
You can buy IOTA with the snap of a finger on BitPanda without having to log in to your browser or anything.
All of the essential features from the website are now available on the mobile app. Following registration and verification, you will be able to buy and sell IOTA as well as any other cryptocurrency available on the exchange.
The "Swap" feature allows you to rapidly convert one cryptocurrency into another, such as BTC into MIOTA or the other way around, and you do not need to convert local currency to US dollars before buying crypto.
3. BitIt
BitIt is a cryptocurrency exchange that allows you to purchase IOTA with a credit card (VISA, MasterCard, Maestro), or cash vouchers from Cashlib and Neosurf, which are accessible in 150 locations.
As a result, BitIt serves as a fiat gateway for IOTA, eliminating the need to first purchase another cryptocurrency, such as Bitcoin or Ethereum, on another exchange and then transfer it to another exchange to purchase IOTA.
All you need to do is to register and carry out a verification process before you begin. The platform accepts 15 different currencies, including EUR, USD, JPY, DKK, GBP, and SEK.
4. Bitcoin.de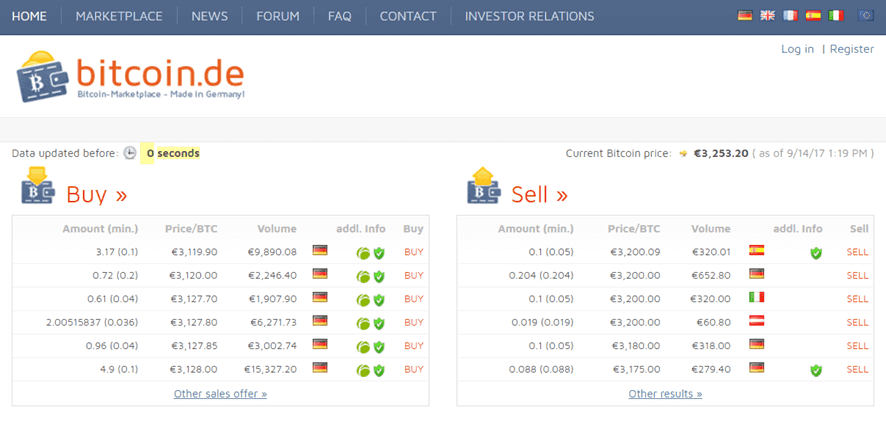 Bitcoin.de is one of the latest crypto exchanges to make IOTA available on its platform. The crypto community has been waiting for a long time for IOTA to be implemented on one of the oldest Bitcoin trading platforms. Finally, the hour has arrived as IOTA can now be exchanged for Bitcoin.
Bitcoin.de, which is based in Germany, has a high level of confidence among its investors. With Bitcoin.de, investors can speculate on which trading pairs will emerge in the future.
Also, trade pairs with other cryptocurrencies, such as Ethereum, are welcome, and registration and verification are required before you can engage in trading on Bitcoin.de.
Frequently Asked Questions (FAQs)
1. Is there a future for IOTA?
Most likely there is. In the medium to long term, the future of IOTA is inextricably linked to the future of the Internet of Things.
If IoT devices become more prevalent, IOTA will be extremely valuable in allowing simple machine-to-machine transactions.
2. Is IOTA compatible with smart contracts?
Yes, it is. IOTA Smart Contracts are seen as classic Smart Contracts, but with the extra benefit of being able to have numerous parallel chains, all utilizing the same native IOTA coin and trading between them in a trustworthy way on the Tangle. This enables reliable interchange between many applications.
Final Thoughts
IOTA crypto has come a long way recently, and with more exchanges beginning to allow for its support on their platforms, it can only get bigger.
If you are an investor looking for an exchange to buy IOTA, I suggest you make use of any of the above-listed exchanges in this article.
Read More